Okuma CNC Sales, Spares and Repairs
AXIS AND SPINDLE DRIVES
An extensive selection of current and legacy Okuma drives, including VAC II, VAC III, BL-D, BLII-D (single and double axis),  MPS, MPR and MIV drives.
AXIS AND SPINDLE DRIVE TOP BOARDS
We are often able to offer just the top boards for Okuma VAC drives and BLII-D drives.
CNC PRINTED CIRCUIT BOARDS
An extensive range of circuit boards for Okuma Opus 5000, Opus 7000 and OSP 3000 controls.
ENCODERS AND RESOLVERS
We can offer new and reconditioned Okuma encoders at very attractive prices.
SERVO MOTORS
We can supply a range of Okuma BL servo motors both modern and obsolete. Furthermore, we are able to refurbish them to very high standard with full test and, where needed, encoder re-alignment and re-magnetization.

In addition to supplying a wide variety of Okuma boards, drives, motors and spare parts, we also carry out repairs, we fully refurbish the parts and test them functionally on a dedicated rig, just like the OEM.
With Pro Servo you can always expect technical competence, quality workmanship, friendly service and competitive prices.
COMPETITIVE PRICING
Our prices are significantly lower than the OEMs', we aim to provide you a saving of around 30% on new parts and even up to 40-70% with solutions like supply refurbished, service exchange and repair .
SHORT LEAD TIMES
We are often able to despatch parts on the very same day. Repair times are also reduced, due to  the great availability of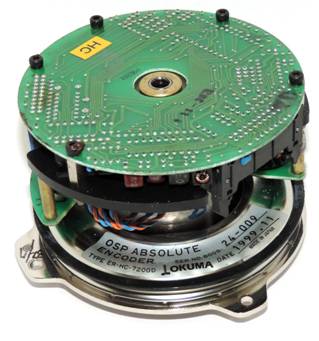 original components,  which paired with our expertise, allow us to return your equipment to you in the shortest time possible.
EXCHANGE OPTION
If your faulty unit is repairable, we can always get you back up and running with a quicker service exchange instead, in other words the exchange of your faulty unit with a working, refurbished and fully tested one.
CERTAINTY OF REPAIR
Unlike other companies, we have the capabilities to test the communication side of all Okuma repairs we take on, as well as the power side. So you can have the confidence that when your equipment is returned to you, it will work.
---
OUR OKUMA REPAIR & REFURBISHMENT SERVICE:
| Repair Services and Capabilities: | Refurbishment Services & Capabilities: |
| --- | --- |
| Full Functional Closed Loop Testing | Ultrasound Cleaning |
| Board Level Repairs | Firmware Upgrades |
| Large in-house availability of replacement ICCs, boards, screens, fans, encoders, etc. | Large in-house stock of consumable components such as bearings, brushes, capacitors, etc. |
| Motor Rewind | Replacement of End of life components |
| Motor Re-Magnetisation | |
| Software Backup | |
| Encoder Realignment | |